Eurotek Compliance Assured™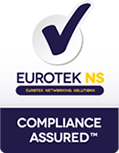 Managed Compliance
Security Review
Threat Assessments
Security Strategy
Incident Management
GDPR / DPA
Cyber Essentials Scheme
Compliance is all about team work. Whether it is ISO 27001, PCI, PCI DSS GDPR, DPA, ITIL, SLA's, SOX or…you name it, without each part of the business team doing its part, compliance to agreed standards, will not be achieved, and maintained.
That is why Eurotek has assembled a Team of Certified Consultants, Engineers, and Solutions to help you reach your required compliance needs.
Eurotek Compliance Assured™ services include:
•Management of security for customers across multiple infrastructures
•Policy design & enforcement
•Penetration testing / vulnerability analysis services
•Forensic investigations
•Incident management
•Security management team and consultants with the requisite qualifications and experience
•Certified CISSP security professionals
•Registered CISM consultants
•Qualified BS7799 / ISO27000 Lead Auditors
•Provision of consultancy, managed services and own governance of operational security staff
•The team has over 35 years' experience in Information and Cyber Security, Military, Government, Financial and Blue chip arena's.